Often, even just a millisecond is crucial: The kickback is the most common cause of serious injuries when using a track saw. Festool's unique Kickback Stop stops the saw blade of the TSC 55 KEB cordless track saw in the blink of an eye, protecting your workpiece and minimizing the risk of injury to your hands.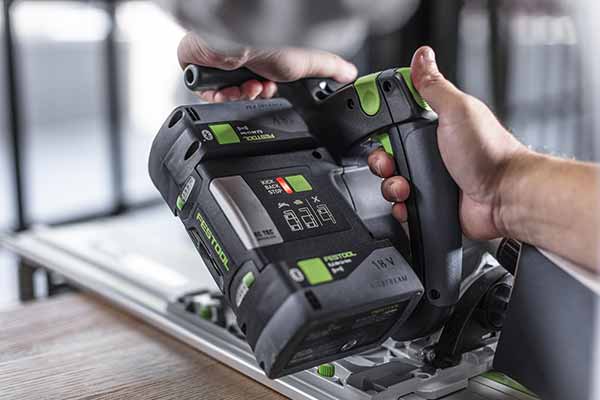 Powerful, extended battery range enables precise cuts at up to twice the speed, and with Festool's new generation of saw blades, provides maximum cutting performance and perfect cutting quality.
The combination of a brushless EC-TEC motor and dual battery system (2 x 18 V) makes the new TSC as impressively powerful as a mains-powered machine, while maintaining full mobility.
The kickback stop helps to reduce the risk of injury from kickback when sawing or plunging the tool into the workpiece
Concentrated torque and up to twice as fast work progress with an increased saw blade service life
Brushless EC-TEC motor combined with lithium-ion batteries for maximum cutting power
Low-dust mobile working thanks to dust collection bag or an extractor with Bluetooth® automatic switch-on (sold separately)
The kickback stop can be deactivated for individual cuts
Includes two BP 18 Li 5.2 ASI battery packs, a rapid charger TCL 6 and 55" Guide Rail FS 1400.