There's great satisfaction in a job well-done. The process is even more enjoyable when you have the right tools to help a project come together quickly and with ease.
Going cordless with your power tools offers a lot of freedom. Many brands and options are available to contractors and home DIYers in cordless power tools, and an equally wide range of quality, construction and life span.
We asked Sears Trostel customer, Jeremiah Sailer, why he has invested in many
Festool cordless products
, as well as the whole Festool line.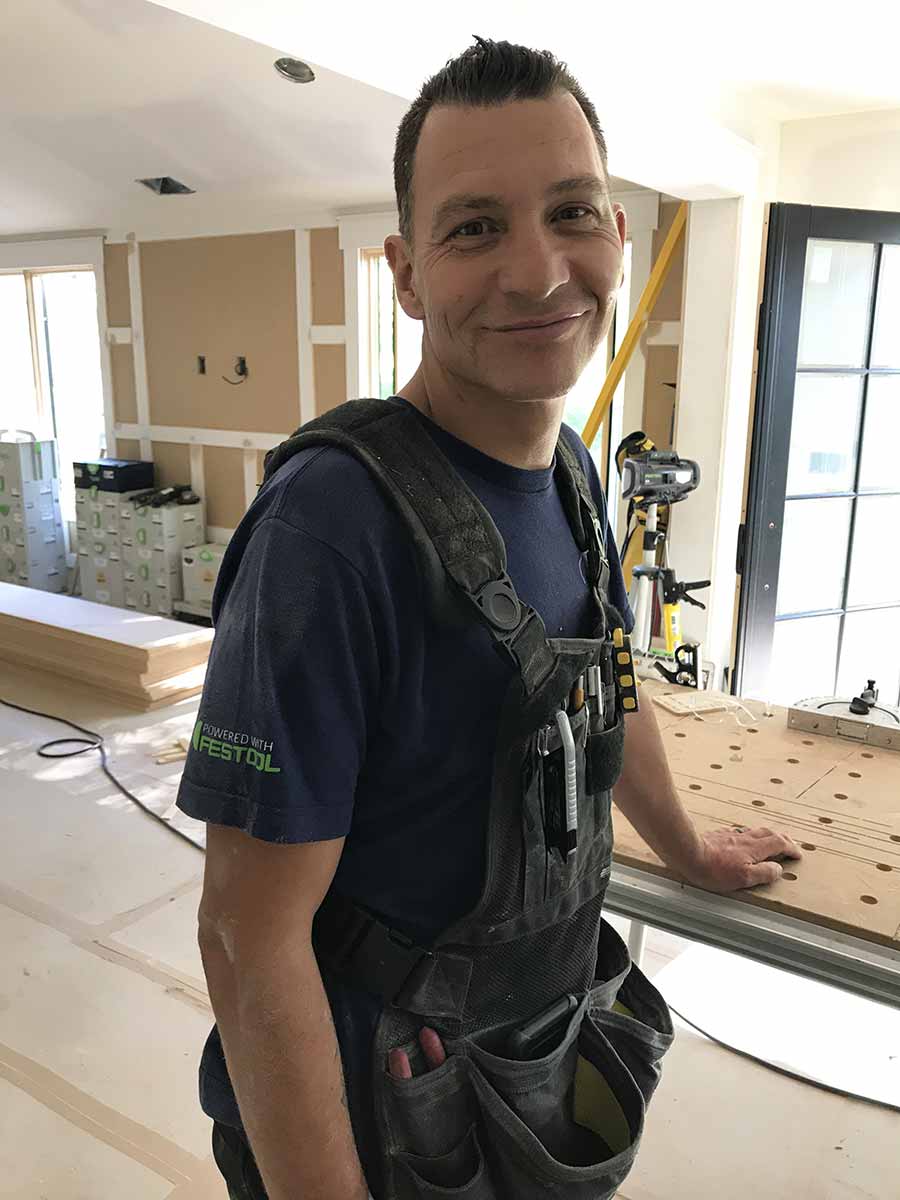 Jeremiah has worked in custom carpentry for 15 years, and six years ago started Sailer Carpentry in Fort Collins. Three years into business for himself, after trying-out a fellow contractor's Festool products, he started selling-off his tools from another tool brand and replenished them with Festool. Now his job sites are outfitted with nearly all Festool products and he has no regrets about making the change.
Festool manufactures many cordless tools --
drills, sanders, jigsaws, track saws, multi-tool, angle grinder
-- and Jeremiah says he owns most all of them. Cordless makes up approximately 30% of his tool inventory. The convenience of cordless tools adds to the overall efficiency of a job by allowing his team to easily move between sawing stations on a job site with one track saw; walk through a house and do sanding detail work; and have freedom of movement with the twisting and turning of a jigsaw without the cord slowing you down.
"I think there is night and day difference" he said when asked about the battery life between Festool batteries and the batteries of his previous cordless tools.
"Cordless Festool lasts quite awhile. Plus their charger charges fairly quickly," he added. "All of our drills are cordless and we're not having to swap-out batteries all the time. We can go quite awhile before we would need a charge. Even our little drills for cabinet installs. We can almost get through an entire cabinet pack in a custom home without having to swap-out batteries."
"Drills in box stores are designed for a certain amount of use and then they fail," said Jeremiah. "They're not necessarily designed to break, but they don't have the gearing. They don't have the proper engineering to last like Festool does. That to me is the big difference. I feel like everything is geared and engineered to what we do. Cordless and corded."
Jeremiah is sold on both cordless and corded Festool. But why did he make the switch to Festool? There are several reasons he said:
"Precision. Festool is specifically engineered for what we do."
"The efficiency of working with the tools allows us to be quicker on the process of building so that we can take our time on the install."
"The cleanliness of how Festool comes together and the set-up is very organized. I really love that."
"Every tool hooks up to a dust extractor. That's really key with my homeowners and my clients."
"Their warranty program is amazing."
"Festool allows us to set-up shop in somebody's home and be able to fabricate anything out of wood for their house."
Jeremiah bases the success of his business more on the outcome of projects, rather than on the financial bottom line.
"The majority of what we work with and what we wear on our sleeve is Festool, and that is what creates a lot of success in what we do."
~~~~~~~~~~~~~~~~~~~~~~~~~~~~~~~~~~~~~~~~~~~~~~~~~~~~~~~~~~~~~~~~~~~~~~
Sailer Carpentry specializes in finish work and custom carpentry in custom homes, and takes on projects like stairways, cabinet installs, built-ins and faux beams. Check out their
website
and
Instagram
to learn more.