The KAPEX is the most advanced sliding compound miter saw in the market today — making cuts that rival the finest trim work. Light in weight and heavy in features, the KAPEX KS 120 is the perfect corded saw for the workshop or the jobsite. Effective dust extraction, precise cuts, easy adjustments, and quality components.
Updated with a new base with integrated sliding table extensions, a more robust motor for longer service life, and new dust port for connecting to the lastest generation of Cleantec hoses.
The KAPEX features a rail forward design which increases precision and creates a compact footprint while preventing head play for accurate cuts.
Easily align cuts from the left or right side using the dual lasers. The lasers clearly define the material which will be removed during the cut.
Micro-adjustable bevel angle with up-front rotary knob. Large bevel scale and fine pointers make it easy to set precise bevel angles.
Dust extraction up to 91% with behind the cut dust hood and pivoting 36 mm hose.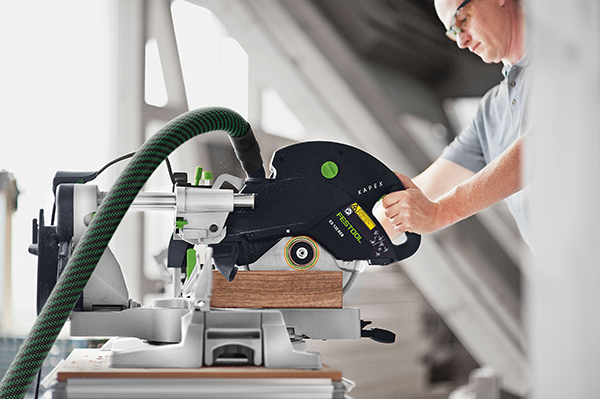 All Festool power tools include a 3-year wear-and-tear warranty, 2-day standard repair time, and 1-month satisfaction guarantee.
Precision
When you need the most precise cut imaginable every time, the KAPEX is second to none
Compact
Whether you're carrying the KAPEX to a job site or keeping it in your workshop, you'll appreciate the lightweight, compact design of this portable saw.
Portability
The ergonomically designed carrying position combined with its light weight (47 pounds) make the Kapex easy to move around the job site. When being transported, the Kapex's head is locked down making it compact and preventing movement. The two handle locations keep the center of gravity of the Kapex close to your body, minimizing the strain on your back. Now, that's smart!
Counter Spring Balanced Bevel
The bevel adjustment on the Kapex is counter spring balanced meaning that you can position the bevel at any angle and the head will stay in position even when it is not locked in place. This makes angle adjustment much less tedious and more accurate. Bevel gauges are on both sides of the saw for quick, easy reference. Using the micro adjustment knob, the Kapex can be dialed in very accurately to fractions of a degree.
Bevel Lock Knob
Use the Bevel Lock Knob conveniently located on the top of the Kapex to control the bevel positive detents and to lock the bevel angle. The counter spring balanced head on the Kapex allows you to position the bevel and let go of the saw with the head moving. Use the fine adjustment knob to control bevel angles in fractions of a degree. The bevel knob has three settings: positive detents at 0 and -45 degrees, free movement between -45 and +45 degrees and free movement up to 47 degrees. Bevels can be made to the left or right and the bevel gauge appears on both sides of the saw.