Here at Sears Trostel we love to help our customers express creativity with wood and bring their great ideas to life
. With the recent popularity of using reclaimed wood in construction and home interior projects, we've responded by providing a large selection of reclaimed lumber, beams, mantels, and corrugated tin at our Riverside store.  
creative ideas for using Milk Paint, like this refurbished 
Now, the trend of 'upcycling' has added a splash of color to our retail landscape — General Finishes Milk Paint.
Upcycling takes a piece of the past and turns it into something new. 
Television shows like HGTVs 
Flea Market Flip
, websites and magazines are now being devoted to the art of upcycling. Old or discarded objects are being reimagined/repurposed into unique and useful pieces.
And that is where General Finishes Milk Paint comes in. These water-based, pre-mixed and self-sealing acrylic paints (so primer isn't necessary!) are
great for bringing new life to vintage furniture and more
. They can be applied over existing finishes, stains or other paints, and will adhere to a variety of surfaces including wood, fiberglass, PVC, vinyl and most composite materials. It's both an interior and exterior paint.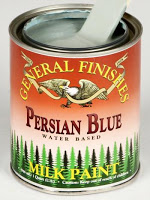 Available in 26 colors, you can GET CREATIVE with your own upcycling project. Use it alone, mix it, distress it, layer it or glaze it.
We're currently stocking GF's 10 most popular Milk Paint colors…
Antique white
Lamp Black
Snow White
Brick Red
Seagull Gray
Queenstown Gray
Persian Blue
Linen
Dark Chocolate
Millstone
Need another color? Let us know! Not sure where to start? 
Visit the General Finishes Design Center to find TONS of ideas. 
The 
GF Facebook page
 also showcases the fantastic works of upcyclers around the country.
While we've carried General Finishes premium quality wood finishing, coating and flooring products for many years, the company's Milk Paint line is new to our store — 
and the only place you'll find it in Fort Collins.
Milk Paint dries to a low luster sheen and is durable enough to stand up to medium abuse. If maximum durability is required, apply 1 or 2 coats of GF High Performance Top Coat. While primer isn't necessary, a stain-blocking primer is recommended if you need to seal knots, cover dark or red-colored grains (these tend to bleed), paint a light color or white over an existing finish, or if you're painting a wood that is known to bleed, such as Pine or Oak.