See our ad on page 11 in the September 2016 issue 
of Lydia's Style magazine

Recycle. Repurpose. Reclaim.
 We hear those words used a lot these days -- especially in the lumber industry. Increased numbers of older structures are being carefully dismantled -- rather than demolished -- and more fallen trees are being salvaged.
With the call to preserve our natural resources, 
Reclaimed Products are becoming favored choices for home interiors, architectural elements and crafting projects. 
Watch shows on 
HGTV
 and 
DIY Network
, or cruise websites like 
houzz.com
 and 
Pinterest
, and you'll find them being used in a multitude of ways. These materials add a warmth and sense of history that their newer counterparts may lack.
With the increased popularity of reclaimed products, finding sources for them is becoming more challenging. 
But finding them in Fort Collins has become a lot easier!
Sears Trostel is your local connection for reclaimed beams & mantels
, 
reclaimed lumber
, 
reclaimed corrugated tin
and
live-edge urban salvaged wood slabs
for use in DIY and commercial construction projects.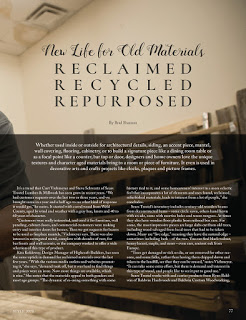 Read about reclaimed materials in the 
September 2016 issue of Lydia's Style
Hand Hewn Beams & Mantels
collected from 100+ year-old structures make a beautiful statement in any style of home — from vintage to contemporary. In-stock sizes range from 4"x8" to 10"x10" in varying lengths, or special order custom sizes.
>> See examples of Reclaimed Mantels and Beams, and other Reclaimed Materials, in our inventory.
Reclaimed Pine and Fir Lumber
 sourced from windbreaks and old corrals, is ideal for use in picture frames, furniture pieces, or for accent walls, and more.
>> Check-out creative Reclaimed Wood ideas on Pinterest  
Live-Edge Salvaged Wood Slabs
 make a gorgeous foundation for tables, bar tops, benches, mantels -- whatever your imagination can dream-up.
>> See what you can do with Live-Edge Wood
To go along with the rustic character of the reclaimed woods in your projects, we also stock 
Reclaimed Corrugated Tin
 panels in three different patinas -- Grey, Light and Heavy. Full panels are 26" wide x 12' long.
>> Find creative ways to use Reclaimed Corrugated Tin 
Stop by Sears Trostel today and reclaim a piece of the past for your next project!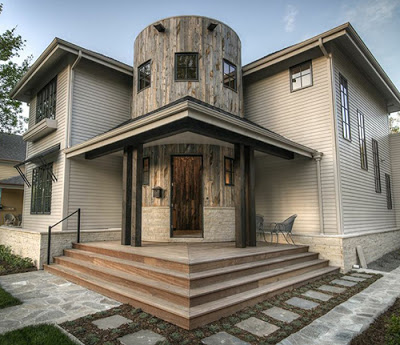 Contractor: HighCraft Builders   Photo by: Damon Searles