Since the inception of Bread N Boards in 2005, the 'bread' in Bread N Boards has always been
Great Harvest Bread. 
With the company's mission to 
"BE loose and have FUN! Bake phenomenal bread. Run fast to serve others. & GIVE generously."
, 
it's a natural fit with what Bread N Boards is all about
. The blending of simple, natural ingredients to create something with goodness in mind.
As the event has grown, the committment of our local Great Harvest Bread Co. has grown, too.
The 
first year we had just a few hundred boards
 at the event — which now has 
grown to over a thousand
 — and every board sold has gone home with a certificate for a FREE loaf of bread. 
That's a lot of bread!
The owner of the Great Harvest of Fort Collins locations, 
Julie Damschroder
, has remained steadfast in being 'the bread' in Bread N Boards, giving much from a financial perspective, as well as being the one to personally supply and serve bread samples at each year's event.
WE THANK JULIE, AND HOPE YOU WILL, TOO.  Stop by the two Fort Collins locations to say thanks in person, and take home some of the BEST bread you'll ever taste! 
Join us for Bread N Boards on Saturday, December 3, 2016.  9:00 am to 1:00 pm. ALL proceeds from the event benefit the Food Bank for Larimer County.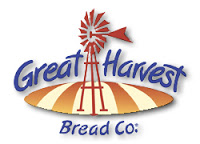 Great Harvest of Fort Collins, 2601 E. Lemay Ave., Suite 1

Great Harvest of Fort Collins, Wells Fargo Banks Building, 3600 S. College Ave.