He has worked in the corporate world, the non-profit world, worked on boats overseas and been self-employed, and now Bob Jefferies feels lucky to have found Sears Trostel. 
Bob may have greeted you at the front dest at our Riverside location when he first arrived a year-and-a-half ago, but now he feels at home in our custom shop, as he works with contractors and retail customers on their wood-related projects.
Returning to Colorado with his wife Kim after 18 years, he was happy to find a place similar to the woodworking supply store he came from in Portland, OR. "Everything fell into place and I feel really fortunate," Bob says. "I really like Sears Trostel because I like being part of a community and a company that's involved in the community."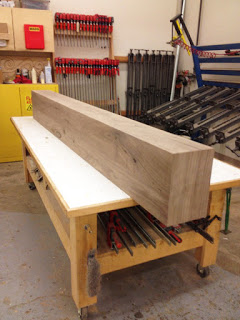 Bob's work on a Custom Box Mantel

As the custom shop assistant, Bob is here to cut, mill, sand, plane, route, glue, work on intricate projects like custom arch casings and mouldings — or to be available to pick his brain. He enjoys sharing his 20 years of professional woodworking experience with those that come to the shop. "I can work with a wide variety of customers, whether it's the beginner or the advanced, or anywhere in between," he says.
He particularly likes working with customers to create custom box mantels — one of our newest products — and wood countertops. In between customer projects, he creates cutting boards throughout the year for our annual Bread N Boards fundraising event in December to benefit the Food Bank for Larimer County.
Even in his free time, you'll find Bob woodworking. He enjoys making wood clocks and jewelry to give as gifts, but has also recently completed a project for himself. 
"I just finished my music room, man cave," he chuckles. "It's kind of a showpiece of all the stuff we're selling right now." He trimmed-out the room with beetle-kill pine, and used live-edge wood to make shelves, a countertop, an end table and bistro table.
You might think that woodworking consumes all of Bob's life, but it actually doesn't.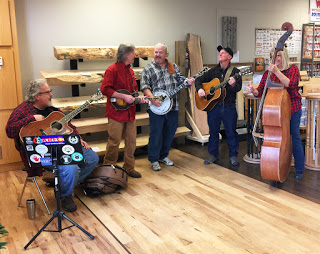 Bob playing with The T-Band at Bread N Boards 2016
"Music's my passion when I'm not working," Bob says. 
He grew up playing classical piano, and took up the guitar in high school.  "Then I got a mandolin, and the mandolin just kind of took over," he says fondly. "I love the sound of it and you can play it in all different genres of music."  He has even made a custom wood case to carry the instrument. You'll find him and his mandolin playing bluegrass music with The T-Band at Avogadros Number in Fort Collins, and at private parties during the summer.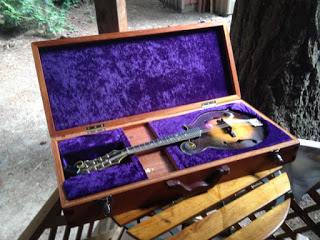 Bob's mandolin and custom case

He also enjoys playing at various jam sessions around town. "It's kind of like woodworking. There are beginners and there are pros and everything in between, and everybody's willing to share with each other what they know and what they can learn. It's fun!"