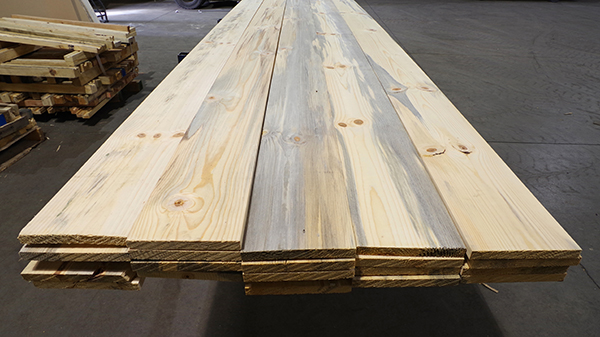 Boards: 1x6 S4S (actual size 3/4" x 5-1/2") SALE $1.68/lf reg. $2.10/lf
Boards: 1x8 S4S (actual size 3/4" x 7-1/4") SALE $2.09/lf reg. $2.61/lf
Paneling: 1x6 WP4 (actual size 11/16" X 5-1/4") SALE $1.97/lf reg. $2.46/lf
Blue Stain Pine (also called Beetle Kill Pine) comes from multiple species of Pine and can also include species of Spruce and Alpine fir. It typically is a light-colored softwood, with nearly-white to pale yellow coloring and distinctive areas of blue-gray color ranging from a light gray to a deep blue-black. It is also known to have areas of brown, red, or purple. The coloring of Blue Stain Pine most commonly occurs from a fungus carried by the Mountain Pine Beetle.
A readily-available supply of Blue Stain Pine makes it an affordable alternative to other types of Pine, Fir or Spruce. It's coloring makes it a unique and beautiful choice for a wide variety of applications like wall and ceiling paneling, flooring, interior trim moulding, cabinetry, mantels, furniture, picture frames and more.
Call or visit our Riverside store to take advantage of these great deals!